We Teach
CLASSICAL, MOVIE, POP, JAZZ, GAME MUSIC
and MORE

EASY Access!
Our growing collection of easy to follow piano tutorials covers a wide range of genres and styles.
Lessons are taught by a certified university degree pianist.
All Part 1 Videos Are Free To Try!
Members get full access to all parts of the songs! We take song requests.
New additions are posted to the library EVERY WEEK!
We Make Learning EASY!
Easy Piano Online makes High Definition (HD) videos with step by step narration and playing examples.
Video lessons are accessible 24/7 and can be replayed unlimited number of times!
EASY Learning Without Reading Notes!
You don't need to know how to read sheet music in order to play your favorite songs!
With these step by step video tutorials we make it easy for you!
Each tutorial uses colored keys and playing demonstrations to visually
guide you!
Private Lessons
We offer private lessons. Please follow the link below:
Private Lessons
Site support via online chat.
Chat icon is now displayed on the right bottom corner throughout the site and being clicked expands prompting to specify the name of the caller.
In case when support personnel is not available at the moment of the call the request still will be dispatched and processed.
Please do not hesitate to use this service!
Support for auto-translation into multiple languages.
To enable auto-translation pick the language of your choice from the drop-down box located at the top-right corner of the screen.
All text on the web site except text embedded in images and lyrics, which intentionally protected from translation to keep the poetry intact, will be translated.
Please keep in mind, the auto-translation is not perfect and does not guarantee 100% accuracy while still can be of a great value as an additional support tool.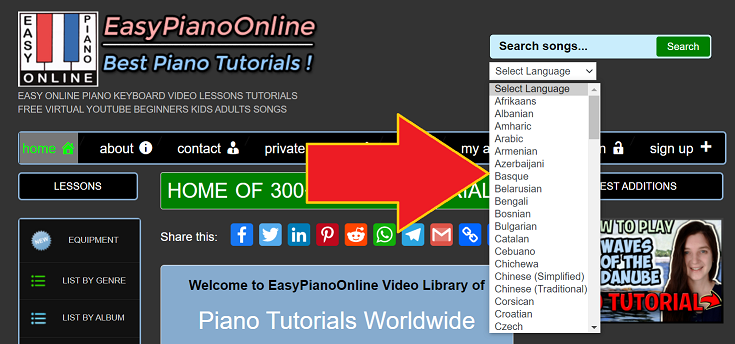 And Much More…