Excellent Gift on Any Occasion

Membership Subscription

on EasyPianoOnline

La Vie En Rose
by Édith Piaf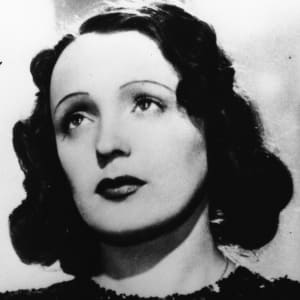 La Vie en Rose (Easy version) of the tutorial can be reached at the link below: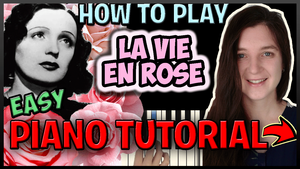 The "La Vie en rose (French pronunciation: ​[la vi ɑ̃ ʁoz]; French: Life in pink)" is the signature song of popular French singer Édith Piaf, written in 1945, popularized in 1946, and released as a single in 1947. The song became very popular in the US in 1950 with no fewer than seven different versions reaching the Billboard charts. These were by Tony Martin, Paul Weston, Bing Crosby (recorded June 22, 1950), Ralph Flanagan, Victor Young, and Louis Armstrong.
A version in 1977 by Jamaican singer Grace Jones was also a successful international hit. "La Vie en rose" has been covered by many other artists over the years, including a 1993 version by American singer Donna Summer. Harry James also recorded a version in 1950 on Columbia 38768. Bing Crosby recorded the song again for his 1953 album Le Bing: Song Hits of Paris.

Lyrics
La Vie En Rose
Des yeux qui font baisser les miens
Un rire qui se perd sur sa bouche
Voilà le portrait sans retouches
De l'homme auquel j'appartiens
Quand il me prend dans ses bras
Il me parle tout bas
Je vois la vie en rose
Il me dit des mots d'amour
Des mots de tous les jours
Et ça me fait quelque chose
Il est entré dans mon cœur
Une part de bonheur
Dont je connais la cause
C'est lui pour moi, moi pour lui dans la vie
Il me l'a dit, l'a juré pour la vie
Et dès que je l'aperçois
Alors je sens en moi
Mon cœur qui bat
Des nuits d'amour à plus finir
Un grand bonheur qui prend sa place
Des ennuis, des chagrins s'effacent
Heureux, heureux à en mourir
Quand il me prend dans ses bras
Il me parle tout bas
Je vois la vie en rose
Il me dit des mots d'amour
Des mots de tous les jours
Et ça me fait quelque chose
Il est entré dans mon cœur
Une part de bonheur
Dont je connais la cause
C'est toi pour moi, moi pour toi dans la vie
Il me l'a dit, l'a juré pour la vie
Et dès que je t'aperçois
Alors je sens dans moi
Mon cœur qui bat
La la, la la, la la
La la, la la, ah la
La la la la
Songwriters: Edith Piaf