Lullaby
(Wiegenlied Op.49, No.4)
by Johannes Brahms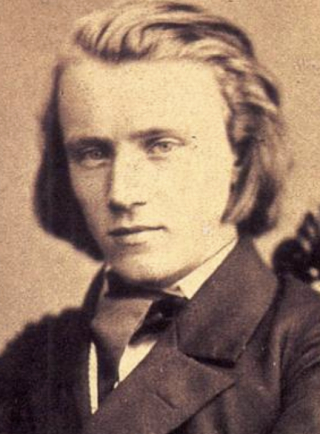 " Lullaby " (Wiegenlied) Op. 49, No. 4, is a lied for voice and piano written by by Johannes Brahms. which was first published in 1868. It is one of the composer's most popular songs. Brahms based the music of his "Wiegenlied" partially on "S'Is Anderscht", a duet by Alexander Baumann [de] published in the 1840s. The cradle song was dedicated to Brahms's friend, Bertha Faber, on the occasion of the birth of her second son. Brahms had been in love with her in her youth and constructed the melody of the "Wiegenlied" to suggest, as a hidden counter-melody, a song she used to sing to him. The lyrics are from Des Knaben Wunderhorn, a collection of German folk poems.
Lyrics
Brahms Lullaby (English Translation)
Good evening, good night,
With roses covered,
With cloves adorned,
Slip under the covers.
Tomorrow morning, if God wills,
you will wake once again.
Good evening, good night.
By angels watched,
Who show you in your dream
the Christ-child's tree.
Sleep now blissfully and sweetly,
see the paradise in your dream.
Songwriters: Johannes Brahms, Georg Scherer
Brahms Lullaby (German Original Text)
Guten Abend, gut' Nacht,
mit Rosen bedacht,
mit Näglein besteckt,
schlupf' unter die Deck':
Morgen früh, wenn Gott will,
wirst du wieder geweckt.
Guten Abend, gut' Nacht,
von Englein bewacht,
die zeigen im Traum
dir Christkindleins Baum:
schlaf nun selig und süss,
schau im Traum 's Paradies.
Songwriters: Johannes Brahms, Georg Scherer