Excellent Gift for Christmas / New Year

Membership Subscription

on EasyPianoOnline

Auld Lang Syne
(Scottish Traditional)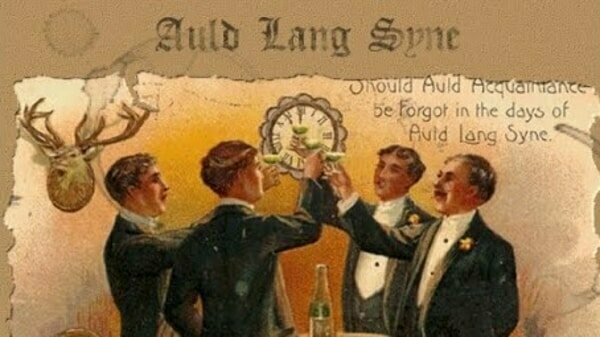 " Auld Lang Syne " is a Scots-language poem written by Robert Burns in 1788 and set to the tune of a traditional folk song (Roud # 6294). It is well known in many countries, especially in the English-speaking world, its traditional use being to bid farewell to the old year at the stroke of midnight on New Year's Eve. By extension, it is also sung at funerals, graduations, and as a farewell or ending to other occasions. The international Scouting movement in many countries uses it to close jamborees and other functions.
The poem's Scots title may be translated into standard English as "old long since" or, less literally, "long long ago", "days gone by", or "old times". Consequently, "For auld lang syne", as it appears in the first line of the chorus, might be loosely translated as "for the sake of old times". Singing the song on Hogmanay or New Year's Eve very quickly became a Scots custom that soon spread to other parts of the British Isles. As Scots (not to mention English, Welsh and Irish people) emigrated around the world, they took the song with them.
Lyrics
Auld Lang Syne
(For Old Times' Sake)

Should auld acquaintance be forgot
And never brought to mind?
Should auld acquaintance be forgot
And days of auld lang syne?
For auld lang syne, my dear
For auld lang syne
We'll tak a cup o' kindness yet
For days of auld lang syne
We twa hae run about the braes
And pu'd the gowans fine
But we've wander'd mony a weary fit
Sin days of auld lang syne
We twa hae paidl'd i' the burn
Frae morning sun till dine
But seas between us braid hae roar'd
Sin days of auld lang syne
For auld lang syne, my dear
For auld lang syne
We'll tak a cup o' kindness yet
For days of auld lang syne
And surely ye'll be your pint-stowp
And surely I'll be mine
And we'll tak a cup o' kindness yet
For auld lang syne
And there's a hand, my trusty fiere
And gie's a hand o' thine
And we'll tak a right gude-willy waught
For auld lang syne
For auld lang syne, my dear
For auld lang syne
We'll tak a cup o' kindness yet
For auld lang syne
For auld lang syne, my dear
For auld lang syne
We'll tak a cup o' kindness yet
For auld lang syne
Songwriters: Scottish Traditional / Robert Burns