The Girl From Ipanema
by Antonio Carlos Jobim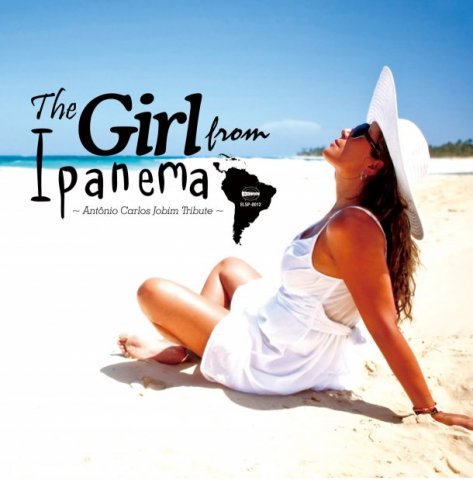 " The Girl From Ipanema " (Garota de Ipanema) is a Brazilian bossa nova and jazz song. It was a worldwide hit in the mid-1960s and won a Grammy for Record of the Year in 1965. It was written in 1962, with music by Antônio Carlos Jobim and Portuguese lyrics by Vinícius de Moraes. English lyrics were written later by Norman Gimbel. The song was composed for a musical comedy titled Dirigível (Blimp), then a work in progress of Vinicius de Moraes. The original title was "Menina que Passa" ("The Girl Who Passes By"); the first verse was different. Jobim composed the melody on his piano in his new house in Rua Barão da Torre, in Ipanema. In turn, Moraes had written the lyrics in Petrópolis, near Rio de Janeiro, as he had done with "Chega de Saudade" ("No More Blues") six years earlier. While firmly rooted in bossa nova, "The Girl from Ipanema" includes influences from blues and Tin Pan Alley. Numerous recordings have been used in films, sometimes as an elevator music cliché. It is believed to be the second most recorded pop song in history, after "Yesterday" by The Beatles. The song was inducted into the Latin Grammy Hall of Fame in 2001. In 2004, it was one of 50 recordings chosen that year by the Library of Congress to be added to the National Recording Registry. In 2009, the song was voted by the Brazilian edition of Rolling Stone as the 27th greatest Brazilian song!

Lyrics
The Girl from Ipanema (English)
Tall and tan and young and lovely,
The girl from Ipanema goes walking
And when she passes, each one she passes goes, "Aaah…"
When she walks, she's like a samba
That swings so cool and sways so gently
That when she passes, each one she passes goes, "Aaah…"
Oh, but he watches so sadly –
How can he tell her he loves her?
Yes, he would give his heart gladly,
But each day when she walks to the sea,
She looks straight ahead – not at he…
Tall and tan and young and lovely,
The girl from Ipanema goes walking
And when she passes, he smiles, but she doesn't see…
Oh, but he watches her so sadly –
How can he tell her he loves her?
Yes, he would give his heart gladly,
But each day when she walks to the sea,
She looks straight ahead – not at he…
Tall and tanned and young and lovely,
The girl from Ipanema goes walking
And when she passes, he smiles, but she doesn't see…
She just doesn't see…
No, she doesn't see…
But she doesn't see…
She doesn't see…
No, she doesn't see…
Songwriters: Norman Gimbel, Antonio Carlos Jobim, Vinicius De Moraes
Garota de Ipanema (Portugese)
Olha que coisa mais linda mais cheia de graça
É ela menina que vem e que passa
Num doce balanço, a caminho do mar
Moça do corpo dourado
Do sol de Ipanema
O seu balançado é mais que um poema
É a coisa mais linda que eu já vi passar
Ah, porque sou tão sozinho
Ah, porque tudo é tão triste
Ah, a beleza que existe
A beleza que não é só minha
Que também passa sozinha
Ah, se ela soubesse
Que quando ela passa
O mundo sorrindo se enche de graça
E fica mais lindo por causa do amor
Songwriters: Norman Gimbel, Antonio Carlos Jobim, Vinicius De Moraes