Excellent Gift on Any Occasion

Membership Subscription

on EasyPianoOnline

Katyusha
by Matvey Blanter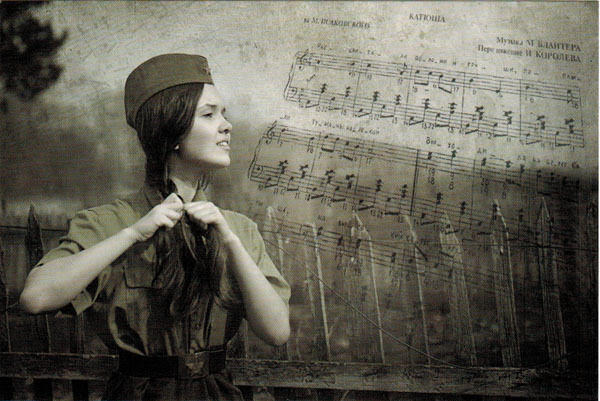 " Katyusha " is a Soviet folk-based song and military march. It was composed by Matvey Blanter in 1938, the lyrics are written by Mikhail Isakovsky. Katyusha gained fame during World War II as a patriotic song, inspiring the population to serve and defend their land in the war effort. In Russia, the song was still popular as of 1995. The song is the source of the nickname of the BM-8, BM-13, and BM-31 "Katyusha" rocket launchers that were used by the Red Army in World War II.
The song is about a Russian woman called Katyusha. Standing on a steep riverbank, she sends her song to her beloved, a soldier serving far away. The theme of the song is that the soldier will protect the Motherland and its people while his grateful girl will keep and protect their love. Its lyrics became relevant during the Second World War, when many Soviet men left their wives and girlfriends to serve in World War II, known in Russia as The Great Patriotic War. Many of the men never returned home, with an estimated 8,668,400 Soviet military deaths.
Lyrics

Katyusha
(English – Translation)

Apples and pears were blossoming
Mist on the river floating
On the bank Katyusha stepped out
On the high steep bank
Stepped out, started a song
About one grey steppe eagle
About her loved one
Whose letters she cherished
Oh song, maiden's song
Fly towards the clear sun
And to the warrior on a far away border
Bring Katyusha's greeting
May he remember this simple maiden
And hear her singing
May he save our motherland
And love, Katyusha will save

Катюша
(Russian – Original)

Расцветали яблони и груши,
Поплыли туманы над рекой;
Выходила на берег Катюша,
На высокий берег, на крутой.
Выходила, песню заводила
Про степного, сизого орла,
Про того, которого любила,
Про того, чьи письма берегла.
Ой, ты песня, песенка девичья,
Ты лети за ясным солнцем вслед,
И бойцу на дальнем пограничье
От Катюши передай привет.
Пусть он вспомнит девушку простую,
Пусть услышить, как она поет,
Пусть он землю бережет родную,
А любовь Катюша сбережет.
Расщветали яблони и груши,
Поплыли туманы над рекой;
Выходила на берег Катюша,
На высокий берег, на крутой
Songwriters: Matvey Blanter / Mikhail Isakovsky