Wonder Woman
1970s Theme
by Charles Fox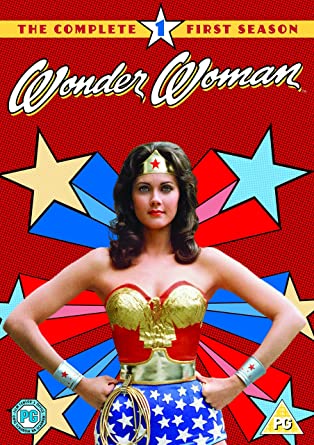 " Wonder Woman " is an American action superhero television series based on the DC Comics comic book superhero of the same name. The show stars Lynda Carter as Wonder Woman/Diana Prince and Lyle Waggoner as Steve Trevor Sr. & Jr. It originally aired for three seasons from 1975 to 1979.[1] The show's first season aired on ABC and is set in the 1940s during World War II. The second and third seasons aired on CBS and are set in the 1970s, with the title changed to The New Adventures of Wonder Woman, and a complete change of cast other than Carter and Waggoner. Waggoner's character was changed to Steve Trevor Jr., the son of his original character.
Lyrics
Wonder Woman
Wonder Woman!
Wonder Woman!
All the world is waiting for you,
And the powers you possess,
In your satin tights,
Fighting for your rights,
And the old red, white and blue!
Wonder Woman!
Wonder Woman!
Now the world is ready for you,
And the wonders you can do.
Make a hawk a dove,
Stop a war with love,
Make a liar tell the truth!
Wonder Woman!
Get us out from under.
Wonder Woman!
All our hopes are pinned upon you,
And the magic that you do.
Stop a bullet cold,
Make the Axis fold,
Change their minds,
And change the world!
Wonder Woman!
Wonder Woman!
You're a wonder!
Wonder Woman!
Songwriters: Charles Fox & Norman Gimbel