Suis-Mo
by Hans Zimmer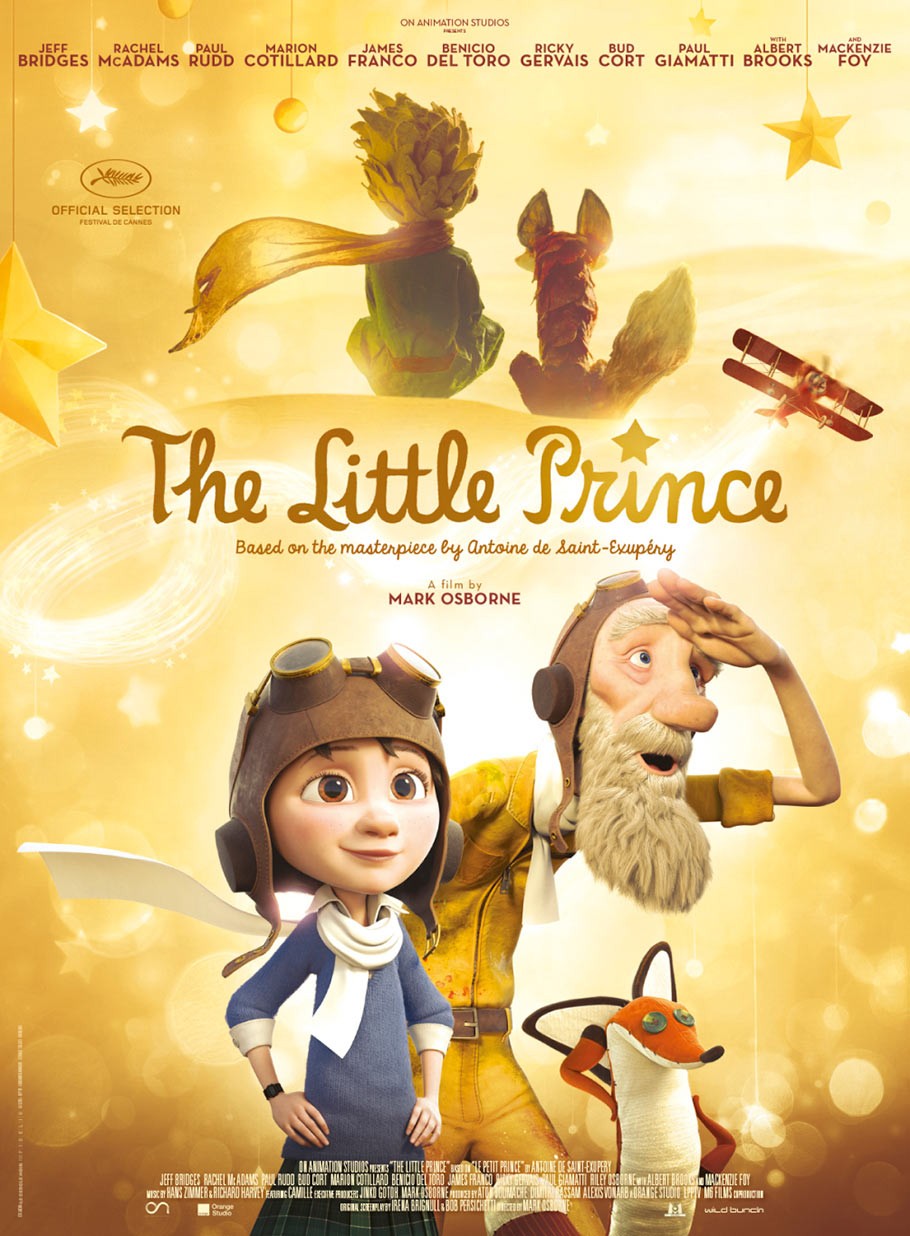 " Suis-Moi " is a song from the 2015 film The Little Prince. The Little Prince is a 2015 English-language French 3D animated fantasy adventure family drama film directed by Mark Osborne and based on the 1943 novella of the same name by Antoine de Saint-Exupéry. The film stars the voices of Jeff Bridges, Rachel McAdams, Paul Rudd, Bud Cort, Marion Cotillard, Benicio del Toro, James Franco, Ricky Gervais, Paul Giamatti, Riley Osborne, Albert Brooks and Mackenzie Foy. It is the first adaptation as a full-length animated feature of The Little Prince.
The film relates the story of the book using stop motion animation, which is woven into a computer animated framing narrative about a young girl who has just met the book's now-elderly aviator narrator, who tells her the story of his meeting with the Little Prince in the Sahara desert. The film's animation was provided by studio Mikros Image.
Lyrics (French version)
Suis-moi,
Là où je suis sourd,
Suis moi,
Et si je suis pas,
Suis moi,
Là où le "Mishliboo"
Suis-moi,
On y est oh presque!
Suis-moi,
là où rien ne presse,
Suis-moi,
Et v'la qu'nous y voilà!
On s'pose,
C'est si bon quand on s'pose,
Plus de question et qu'on ose,
Ouvrir enfin les bras!
S'perd,
C'est si bon quand on s'perd,
Sans ces espèses de r'pères,
Qui nous repère même pas!
S'pâme,
C'est si bon quand on s'pâme!
D'être si beau ici-bas!
Suis-moi!
Qui suis-je le sais-tu?
Suis – moi,
Ton sosi salut!
Suis – moi,
Et si moi c'était toi?
Suis – moi,
Et si on s'salit,
Suis-moi,
En sueur ou en suie,
Suis-moi,
De si tôt s'assit là!
S'peut,
C'est si…
Suis-moi,
De si tôt s'assit là!
S'peut,
C'est si bon quand ça se peut,
Que qui peut le plus peux le mieux,
Mieux que qui mieux que quoi?
S'plie,
C'est si bon quand on s'plie,
De rire et que la pluie,
Pleure elle aussi de joie!
S'parle,
C'est si bon quand on s'parle,
Si haut ici-bas!
S'passe,
C'est si bon quand ça s'passe,
Et si beau ici-
Lyrics (English version)
Follow me
Follow me, there where I'm deaf
Follow me, and if I don't
Follow me, there where the owl nests
Follow me, we're there or almost
Follow me, there where nothing hurries
Follow me, and here we are
Raise
It's so nice when we raise
more questions and that we dare
to finally open our arms
Get lost
It's so nice when we get lost
Without cash of the means
who can't even spot us
Swoon
It's so nice when we swoon
To be so nice here below*
Follow me, who am I, do you know?
Follow me, your double**, hi
Follow me, and if I were you?
Follow me, and if we get dirty
Follow me, with sweat or carbon
Follow me, so soon, sit down here
Can
It's so nice when it can
that the one who does best can do better
Better than who, better than what
Lie down
It's so nice when we lie down
to laugh and also the rain
it also cries with joy
Talk
It's so nice when we talk
So high down below
Happen
It's so nice when it happens
and so beautiful here below
Songwriters: Hans Zimmer / Camille Dalmais