My Heart Will Go On
by James Horner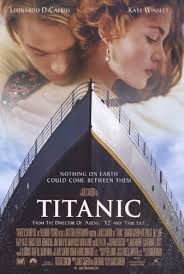 " My Heart Will Go On " is a song recorded by Canadian singer Celine Dion. It serves as the main theme song to James Cameron's blockbuster film Titanic. The song's music was composed by James Horner, its lyrics were written by Will Jennings, while the production was handled by Walter Afanasieff, Horner and Simon Franglen.
Released as a single from Dion's fifth English-language studio album, Let's Talk About Love (1997), and the film's soundtrack, the love power ballad became an international hit, reaching number one in over 20 countries, including Australia, Austria, Belgium, Canada, Denmark, Finland, France, Germany, Ireland, Italy, the Netherlands, Norway, Scotland, Spain, Sweden, Switzerland, the United Kingdom, and the United States. "My Heart Will Go On" was first released in Australia and Germany on December 8, 1997, and in the rest of the world in January and February 1998.
"My Heart Will Go On" is considered to be Dion's signature song. With worldwide sales estimated at 18 million copies, it is one of the best-selling singles of all time and became the second-best-selling single by a female artist in history. It was also included in the list of Songs of the Century by the Recording Industry Association of America and the National Endowment for the Arts. The music video was directed by Bille Woodruff and released at the end of 1997. Dion performed the song to honor the 20th anniversary of the film at the 2017 Billboard Music Awards on May 21, 2017.
Lyrics
Every night in my dreams
I see you, I feel you
That is how I know you go on
Far across the distance
And spaces between us
You have come to show you go on
Near, far, wherever you are
I believe that the heart does go on
Once more you open the door
And you're here in my heart
And my heart will go on and on
Love can touch us one time
And last for a lifetime
And never let go 'til we're gone
Love was when I loved you
One true time I hold to
In my life we'll always go on
Near, far, wherever you are
I believe that the heart does go on
Once more you open the door
And you're here in my heart
And my heart will go on and on
You're here, there's nothing I fear
And I know that my heart will go on
We'll stay forever this way
You are safe in my heart
And my heart will go on and on
Songwriters: James Horner, Will Jennings